Teck raises cost of Chile copper mine again
Breadcrumb Trail Links Mining Commodities Reiterates goal of separating coal…
Reiterates goal of separating coal and metal unit by end of year
Get the latest from Naimul Karim straight to your inbox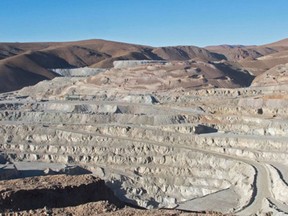 Article content
Teck Resources Ltd. for the second time in 2023 has increased the expected capital costs associated with building its largest copper project, reflecting the complexities involved in the construction of its giant mine in Chile.
The Vancouver-based miner now expects its Quebrada Blanca 2 (QB2) project to cost about US$8.6 billion to US$8.8 billion as opposed to the April guidance of US$8 billion to US$8.2 billion. Prior to April, the cost was in the range of US$7.4 billion to US$7.75 billion.
Article content
"When you look at QB2 … it's really five or six major projects rolled into one with a port, pipelines, mines, tailings," Teck's chief executive Jonathan Price said on a conference call on Oct. 24. "There's a lot to learn from QB2. We will make sure we understand those lessons well before we sanction our next project."
QB2, which Teck has a 60 per cent stake in, is expected to double the miner's copper production. The mine is expected to play a key role in the company's goal of moving away from producing steelmaking coal, which it still depends upon for most of its revenue and profit, towards the metals required for the energy transition away from fossil fuels.
Copper is expected to play a key role in the shift given it is essential for most electricity-related infrastructure such as wind turbines and solar photovoltaic panel wiring and to transfer electricity. The commodity is also one of Canada's top critical minerals along with lithium, graphite, nickel, cobalt and rare earth elements.
The expected rise in QB2's capital cost was attributed to delays in constructing a molybdenum plant and offshore facilities, slower-than-planned demobilization progress and contract claims risk.
Article content
Harry Conger, Teck's chief operating officer, on the conference call said Teck had to modify 16 "huge tailing water return pumps" due to a manufacturing defect that caused overheating.
He added that Teck was also in the process of analyzing claims from contractors affected by unexpected changes in work plans. Teck has not reviewed all the claims, but it has included all of them in its forecast for the project's capital cost.
Despite the rise in costs, the project is expected to achieve full operating status by year-end. Teck continued to ramp up the mine's operations and produced 18,300 tonnes of copper in the quarter and sold 14,300 tonnes. It also maintained its annual guidance of producing about 80,000 to 100,000 tonnes of copper from QB2.
But Teck decreased its annual copper production guidance for the second consecutive quarter. It now estimates it will produce 320,000 to 365,000 tonnes as opposed to 330,000 to 375,000 tonnes. The fall in guidance was driven by a localized geotechnical event in August at the company's Highland Valley Copper site in British Columbia.
Article content
The company also reduced its annual steelmaking coal production guidance to 23 to 23.5 million tonnes, from 24 to 26 million tonnes, due to "plant challenges." It said that it implemented a "plant improvement initiative" and expects to improve performance in the fourth quarter.
The miner did not shed any new details on its goal to separate its coal unit from its metal unit. Price stuck to his previously disclosed plan of hoping to complete a separation by the end of this year.
"The key thing for us is to ensure we make the best decision possible rather than rush the process," he said.
Price said it was important to sell the coal unit in a manner that allows the company to maintain "social and environmental commitments" to stakeholders in the Elk Valley, which hosts the coal mines.
Overall, Teck's third-quarter revenue fell to $3.5 billion compared to $4.2 billion in the same quarter last year. Its gross profit also declined to $831 million from $1.8 billion a year ago. Its adjusted diluted earnings per share from continuing operations declined to 76 cents from $1.74.
The company attributed the declines to lower prices for steelmaking coal and zinc, as well as reduced sales volumes from steelmaking coal and lower production and sales volumes from Highland Valley Copper.
• Email: nkarim@postmedia.com