BHP CEO says Canada 'really attractive,' hopes to invest beyond potash
Breadcrumb Trail Links News Mining Commodities Mike Henry says political…
Mike Henry says political stability, abundant stores of critical minerals and talent make country a good place to invest
Get the latest from Naimul Karim straight to your inbox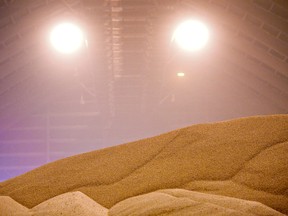 Article content
BHP Group Ltd. chief executive Mike Henry doesn't shy away from trying new things. Just last week, he decided to take a leap of faith and went parachute jumping for the first time while visiting Montreal.
"It was incredible," he said.
Article content
Perhaps not so incredible, though, that the head of the world's biggest miner will be making a hobby of it. Henry, a native of Vancouver, said he will be sticking with more relaxing pastimes to give his mind a rest from running a company with operations in more than 90 locations.
Article content
He spent a few years learning Spanish and is now brushing up on his French. And around the time he was appointed to lead BHP in 2019, he hired a teacher to help him learn to play guitar.
"I am never going to be a great player," he said at BHP's Toronto office on Oct. 17. "It's always good to have something other than work too, right?"
Right. But work has also been a source of new learnings for Henry, who is overseeing one of the biggest capital investments in BHP's 138-year history. BHP, known for its dominance of the copper and nickel markets, is on the cusp of becoming a major supplier of Canadian potash from its Jansen mine, about 140 kilometres east of Saskatoon.
The Melbourne-based miner has been exploring, developing and acquiring potash deposits for more than two decades, but BHP didn't commit to building Jansen until 2021, when it said it would spend $7.5 billion on the project and start production in 2026. BHP first announced its early stage expenditures at Jansen in 2010, but low potash prices prevented it from moving forward until now.
Potash is an important ingredient in fertilizer, helping maintain the productivity of fields that have lost nutrients from repeated farming. The Canadian government considers it one of 31 critical minerals — along with metals such as copper, nickel and lithium — that warrant special attention from Ottawa, including stricter rules over who is allowed to acquire them.
Article content
Potash prices surged in the aftermath of the Russian invasion of Ukraine. Russia and its ally and neighbour, Belarus, control the only deposits that rival the ones in Saskatchewan, and the war has crimped supply by throwing the region into turmoil and making those two countries subjects of Western sanctions.
But prices have been falling since January and are currently back to mid-2021 levels. Analysts say that's due to the resumption of shipments from Belarus and a delay in settling annual supply contracts for Chinese buyers, which generally sets a global price floor.
But lower short-term prices don't concern Henry, who said he expects the rise in global population to vastly increase demand for the commodity in the next two to three decades.
"All those mouths need to be fed," he said. "And there's only two big production basins: Russia-Belarus and Canada. Obviously, Canada is a much more attractive investment destination."
New to the game
It's one thing to build a mine and BHP has as much experience doing that as anyone. But potash is a different kind of commodity than copper, nickel and coal.
Article content
Saskatoon-based Nutrien Ltd. has been mining the mineral since the late 1950s. That's a significant advantage, and probably explains why BHP initially attempted to purchase an earlier iteration of Nutrien in 2010, only to have the takeover blocked by former prime minister Stephen Harper's government.
There was some speculation last year of the two companies partnering, but that talk fizzled out.

Now that BHP has been exploring potash for more than 15 years, Henry said the company has learned enough to be a player. BHP may not have a long history in fertilizer, but a lot of people working on the Jansen project do, he said, so there are no plans to partner with Nutrien.
"We can invest in Jansen Stage One, Stage Two, Stage Three, Stage Four," he said. "That in itself is going to be a very valuable, very material business for BHP. And so there's no urgency or imperative to go off track from that."
Still, he didn't close the door on working with his rival, saying that BHP would always entertain opportunities to create value for shareholders.
Moving away from coal
Aside from potash, BHP is also interested in expanding its copper and nickel assets, while slowly moving away from coal.
Article content
BHP produces metallurgical coal, but Henry said he isn't looking to acquire new assets. That removes BHP as a potential bidder for Vancouver-based Teck Resources Ltd.'s coal business, which it is looking to sell.
Teck wants out of coal entirely so it can solely focus on metals such as zinc and copper and the energy transition as a way to boost its market value. It has said coal is a drag on its value because long-term demand for carbon-intensive energy is projected to decline.

BHP's Henry has a slightly different point of view. He expects metallurgical coal to play a key role for several decades. Metallurgical coal is used to make steel and is different from thermal coal, which is used to create energy and is a major source of environmental pollution.
Henry said BHP is quite close to companies working on technologies that would create steel without carbon, but such a development was still far in the future.
"The nascent state of the technologies, coupled with the amount of capital that is invested in a relatively young blast furnace fleet means that for the next few decades, there's going to be a strong need for coking (metallurgical) coal," he said.
Article content
Canada an 'attractive' place to invest
Henry may not be interested in Teck's coal business, but he is keeping an eye on Canadian copper and nickel assets.
For example, BHP invested $13.6 million in a copper project run by Vancouver-based Brixton Metals Corp., renewed its exploration alliance with Montreal-based Midland Exploration Inc. and invested $100 million in Vancouver-based Filo Mining Corp., which is developing a copper-gold project on the Argentina-Chile border.
Overall, Henry sees Canada as a "really attractive" place to invest considering the country's political stability, abundant stores of critical minerals and talent. He said Canadian authorities have been "extremely proactive" in terms of reaching out and trying to draw investment dollars.
However, he added there are "opportunities to improve," and referenced Canada's "stringent permitting requirements." It can take 10 to 15 years to build a mine in Canada. The federal government said it's working to reduce this time without compromising the quality of the checks.
Some Canadian mining veterans, including Peter Marrone, former head of Yamana Gold Inc., say the high grades and shorter time periods to get mining permits in emerging nations could outweigh the risks of unstable governments and provide more benefits to investors when compared to mining projects in Canada and the United States.
Article content
Henry said BHP would never ask for relaxed standards to speed things up, but wants a focus on efficiency. As an example, he said there's a need to consolidate different environment, social and governance standards into something more coherent.
"There's actually myriad standards out there," he said. "Let's look at how we can move about consolidating those standards into a smaller suite of standards that we can all then line around, and through doing so, we can move more quickly. It'll be the same with government regulation."
• Email: nkarim@postmedia.com
---
Bookmark our website and support our journalism: Don't miss the business news you need to know — add financialpost.com to your bookmarks and sign up for our newsletters here.